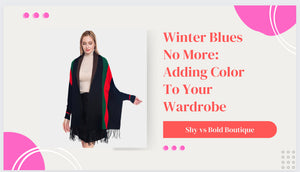 Winter Blues No More: Adding Color To Your Wardrobe
Are you tired of the dull and drab colors of winter? Is the cold weather getting you down? Well, spring is just around the corner, and it's time to start thinking about incorporating bright and bold back colors into your wardrobe.
At Shy vs Bold we believe that fashion is all about expressing yourself, and what better way to do that than with color? We've put together some tips to help you add a pop of color to your outfits this spring.
Start with Accessories: If you're not quite ready to commit to wearing bright colors head-to-toe, start with colorful accessories. Try a bright scarf, statement earrings, handbag  or a necklace to add a pop of color to your outfit.

 

Embrace Pastels: Pastels are perfect for spring and can be a great way to add color to your wardrobe without being too bold. Think soft pinks, lavenders, and blues.
Mix and Match: Don't be afraid to mix and match bright colors. For example, a pink top with yellow pants can create a fun and vibrant outfit. If you're unsure about which colors to pair together, you can always start with complementary colors like blue and orange, or purple and yellow. Check out our Pink and Green Embellished Shirtdress
Try Prints: Prints are a great way to incorporate multiple colors into your outfit. Consider floral prints or abstract patterns in bold colors, like our Melody Blazer.
Make a Statement: If you're feeling confident, go for a statement piece in a bright color like a fun fur. A bold dress or a colorful blazer can make a statement and be the centerpiece of your outfit.
At Shy vs Bold,  we have a variety of clothing options in all colors of the rainbow. Our collection includes bright blouses, pastel pants, statement dresses, and colorful accessories.
We believe that fashion should be fun and expressive, and what better way to do that than with bright and bold colors? Come visit us and let us help you add some color to your wardrobe this spring
Shy vs Bold 
Always Distinctive
---